Neutral Doesn't Have To Be Boring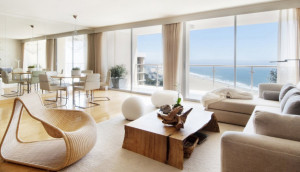 Neutral color schemes are a growing trend in many households. Although neutral furnishings may seem boring, believe it or not, that is a thing of the past. Let's talk a little bit about how to decorate with neutral tones without leaving your space feeling drab.
Interesting Shapes
When the color palette of a room is comprised entirely of neutrals, then the shapes of your room decorations and furniture pieces are far more noticeable than ever before. Consider, for instance, spicing up a room with an interestingly shaped mirror or an elegant coffee table.
Warm and Comforting Textures
You don't have to feel every item in the room to know that including texture adds an overall feeling of comfort and warmth. Woven items or rough wall textures like brick definitely change the feel of the room. Texture can mean smooth or soft, too – like leather or suede furniture pieces.
Layers and Colors
One important thing to note about decorating with neutral tones is to do away with tan. Neutrals don't necessarily mean an entirely beige room – and, in fact, that can make a space feel dull and flat. Crisp black and white or rich, chocolate browns are also neutrals that can give a room a sense of energy or relaxation, depending on how you structure them. Consider, too, how light comes into play. Light creates more layers and shapes in a room depending upon how it is distributed, so use multiple lamps or lighting fixtures and see where you end up.

Neutral Throw Pillows
Organic and natural shapes can do wonders to add texture to a room, and what simpler way to incorporate these shapes than with a throw pillow? Plant and animal themed pillows fit into the neutral space of a room without overwhelming it with color and add a touch of nature in a room.