DIY Chic Halloween Pumpkin Decorating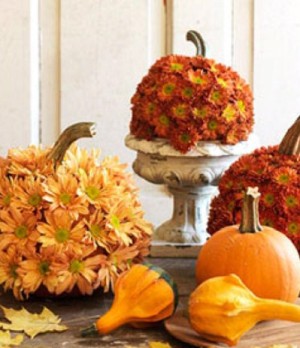 Check out these great DIY pumpkin decorating ideas!
Looking forward to the spookiest time of year? We are! We've combed the Internet to compile a list of our favorite chic DIY Halloween decorations using pumpkins. It's proof that you can do more than just carve pumpkins to celebrate the season. If you've got pumpkin decorating ideas that you'd like to share, leave a comment…we'd love to see what you've come up with.
Pumpkin Cooler
What an ingenious way to use a pumpkin! Thanks to the creative folks at Martha Stewart for this 'cool' idea.
Pumpkin Planters
Add drama to your entrance way without carving a single pumpkin. We love the dramatic effect that this simple idea creates. We owe this one to Good Housekeeping.
Pumpkin Décor
For decidedly sophisticated Halloween décor, this lacy pumpkin idea from Better Homes and Gardens, is the prettiest and most feminine we've seen.
Pumpkin Lantern
Twinkling pumpkin lanterns would make a beautiful and fun centerpiece for any Halloween party you plan to throw. According to House and Home, it's easy to achieve with a power drill.
Patterned Pumpkins
The sky's the limit with this idea from Country Living. Muted and striped or bright and polka-dotted, these patterned pumpkins can be painted to fit any décor.
Metallic Pumpkins
Gilded pumpkins are always an eye-catcher, and they're easy to create. According to Real Simple, a can of metallic spray paint is pretty much all you need.
Chalkboard Pumpkins
The ultimate pumpkin decoration for those who don't want to commit! This chalkboard pumpkin, courtesy of Real Simple, let's you change your design whenever you please.