interior design
now browsing by tag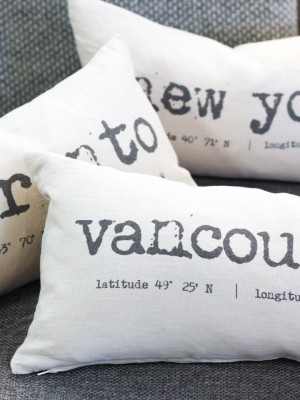 Thematic rooms decorating is enjoying increased popularity, especially among millennials and young couples. Many people like to decorate rooms based on themes including favorite colors, books and movies, or travel destinations. Pillows are a great way to showcase these themes in a cost-effective way without taking up too much space. Today, we'll show you how pillows can enhance a few popular decorating themes.
Nature Themes
As the world becomes more concerned with caring for the environment, people enjoy keeping in touch with nature even indoors. A nature-themed bedroom or sitting room is one way to do so. For this type of room, you can use classics, such as pillows with floral designs, but don't be afraid to think beyond the usual. Seek out pillows made from natural fibers, or ones that evoke nature without using specific prints. For example, choose a blue-striped pillow for an ocean-themed sunporch or sitting room. Choose pillows in sunset colors – deep orange and purple or soft pink – for a relaxing bedroom.
Old World Tradition
Many homeowners enjoy the exotic flair of themes based on travel destinations, specific time periods, or specific art styles. If this describes you, go for pillows with tapestry designs or ones that evoke your favorite styles. If you love Native American culture, choose tribal designs, or choose a pillow with a large sun design if you like early Mexican or Aztec art. For those who experiment with creating thematic rooms to showcase a specific country, a pillow with a flag design is a good choice, as is one decorated with particular symbols. For instance, French heritage can be alluded to with fleur de lis designs.
Single Color Sparkle
Favorite colors make any room feel like home, but be careful not to saturate any room with one color. Instead, build your décor around one or two favorite colors with accents such as pillows. Solid pillows are often the best choice for rooms dedicated to specific colors. These can be made from material infused with sparkle or fabrics, like imitation velvet, to give your room a heightened sense of luxury. Use neutrals in your walls and furniture to make colors pop. Consider using pillows and blankets in varying shades of your chosen colors.
Thematic Rooms: Vintage Options
Vintage is a popular décor choice among today's homeowners because when done with a keen eye, it's timeless. The "vintage vibe" covers everything from postcard-style pillows to pastel florals, from linen and lace to hand-stitched country designs. To achieve this look, search out pillows made with time-honored fabrics and simple trim, such as a bit of lace tatting or understated embroidery.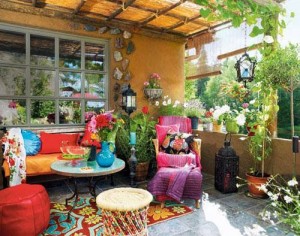 While most people don't consider "soft" furniture for decorating out of doors, it remains true that cushions and outdoor throw pillows are actually a great way to bring comfort to your porch, patio, or outdoor seating area. Cushions and throw pillows can even do wonders to create a space that feels like an outdoor "room." Consider these pointers for creating an outdoor seating space that prioritizes comfort and style.
Bright Colors
One of the best ways to make your outdoor seating area more comfortable is to use bright colors. Because of the way that outdoor seating reflects natural light and flashy flowering plants in your garden, you have much more leeway to mix and match colors out of doors than you do inside. For added coordination, consider using some of the colors that you have already used to decorate the interior of your home, creating a feeling of overall harmony both indoors and outdoors.
Get Creative
Colors are not the only way to make outdoor seating areas feel exciting and interesting. Patterns such as zigzags, stripes, polka dots, or even tribal patterns can be great when mixed together, reflecting some of the unique shapes in nature. Consider mirroring the shapes of your trellis with damask seat cushions for a subtle but lovely way to make your outdoor space harmonious. Outdoor throw pillows like the Waverly New Twist Aquarium can add both bright colors and patterns to any outdoor decor.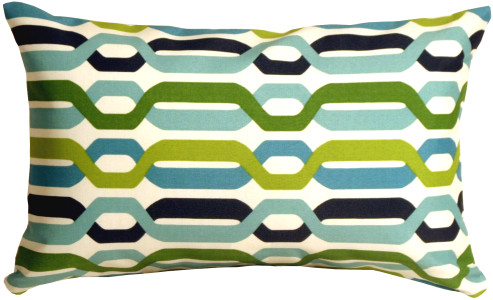 Multiple Layers of Outdoor Throw Pillows
You want outdoor furniture to be made of materials that will last, which is why rattan, wicker, and wrought iron are such popular choices. However, with such classically uncomfortable materials, you will need to find new ways to add comfort. By layering outdoor throw pillows with varying shapes and sizes, your patio space will feel customized, luxuriously comfortable, and even downright plush.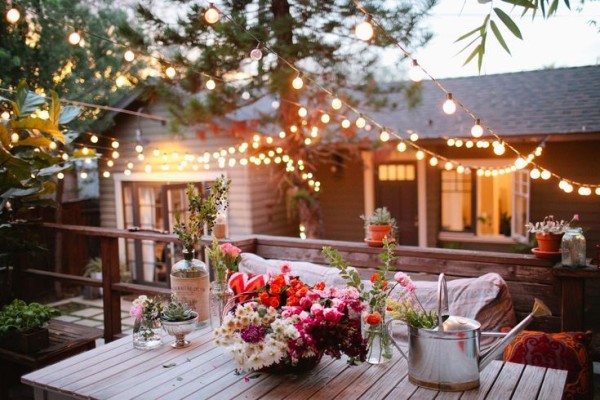 Summer is just around the corner, which means barbeques, gardening, and all forms of backyard entertainment will soon be underway. Now is the perfect opportunity to prepare your outdoor space for the festivities, so why not do it in style with patio accessories? From throw pillows to potted plants and statues to wind chimes, there are many ways to spruce up your patio in time for summer and make it the place to be for friends and family. Here are some patio accessories to complement the area:
Outdoor lighting. Lights can be embedded in stepping stones, mounted to fences or walls, or strung from nearby structures to brighten the path for your family and friends. Floor lamps give the impression of an indoor living space, and hanging lanterns or tabletop candles will brighten the dinner area. For added whimsy, and for use as an insect deterrent as well, consider surrounding your entertaining area with tiki torches.
Decorative water fountains. Gurgling fountains are soothing to the ear and mesmerizing to watch. They are fantastic conversation pieces as well. There are countless options for these garden and patio accessories – such as wall mounted, hanging, tiered, or tabletop fountains.
Versatile seating. Patio furniture should be practical and multifunctional. It should withstand the elements with somewhat minimal maintenance and be suitable for a multitude of activities, such as working, relaxing, and dining. Seating should also leave plenty of room in the area for movement.
Potted plants. Herb gardens are easy to maintain and nicely accent patio space. Check with the local garden center to find out which plants grow comfortably in your area. Then combine different types in planters to make colorful arrangements. To add to the diversity, use pots in an array of sizes, shapes, colors, and materials.
Statues. Birdbaths and cherubs are perhaps the most traditional outdoor pieces. If these are too classical for your style but you'd rather not opt for plastic flamingos and garden gnomes, there are still many tasteful choices available. Gargoyles, fairies, bird houses and feeders, and even garden benches are all beautiful patio accessories that can promote conversation or simply be a peaceful object on which to meditate.
Wind chimes. Although wind chimes of any style are aesthetically pleasing, they are quite functional too. They help predict the weather by alerting you to strong winds or changes in wind patterns. They are also an added security measure – because they are so sensitive, they will likely ring and jingle at the slightest disturbance. Wind chimes can even soothe upset children and keep pesky birds at bay.
Pillows. Add comfort and style to your outdoor living space with pillows. They can be themed – floral, for instance – or, as with flower pots, you can display a variety of sizes, shapes, and colors.
Remember to opt for pillows and cushions that are weather-resistant, meaning they should be able to resist fading from exposure to sunlight and repel moisture and mildew. Additionally, they should be easy to wipe clean. For more decorating information, and for an expansive selection of outdoor pillows, visit Pillow Décor today!
While the phrase "throw pillow" might make you think of the typical square pillow, the truth is that your choices are much more varied! Learn more about the different kinds of throw pillows that you can use to accent any room.
Size and Style
Throw pillows can range from just a few inches or several feet wide in size. Sizes can also be mixed and matched for different pieces of furniture or floor space.

Bolster pillows, unlike the traditional rectangular or box pillow, are cylindrical in shape and are sturdier as well – an excellent option for leaning or propping up the head or legs.

Edges and Flanges for Pillows
There are a number of different shapes that the edges of a pillow can take. For instance, the most basic type of pillow that you will see is the rectangular knife edge pillow. This type of pillow consists very simply of two square or rectangular pieces of fabric sewn together around the edges, creating a seam.
There are more decorative styles of pillows, however, such as the flange pillow, which has a band of flat fabric around its edges. These are enormously versatile and customizable, as the flange can be a different pattern than the rest of the pillow – though it doesn't have to be. A welted or corded pillow has a cord rather than a flange around the seam, which can also be comprised of the same fabric as the pillow, or a different fabric which coordinates.
Finally, the box pillow has raised, flat sides. This type of pillow is typical of the couch or seat cushion. The sides of the box can match or contrast the top and bottom of the pillow. Any pillow can come with tassels and other fun decorations, so don't be afraid to look at several different styles and shapes.
Types of Stuffing
There are just a couple of types of pillow stuffing, namely down and synthetic options. Down requires the owner to fluff the pillow regularly, which is why many pillows are made of a down/feather or down/synthetic blend to hold their shapes more readily. Synthetic fillings have actually improved enormously over the past couple of decades, which means they can be as comfortable as down, and are a great option for pillows that will see a lot of wear. For example, polyester Fiberfil is hypoallergenic, a great option for those who want the feel of down but suffer from allergic reactions.
Texture and Color
Colors and textures are the most obvious aspects of any pillow, so choose throws that you like the look and feel of. Don't be afraid to go a little wild, either – like with this Snow Leopard Faux Fur Throw Pillow from Pillow Décor, which mixes a fun pat tern with a luxurious texture.