On the Dot: How Polka Dots are Redefining Interior Design Trends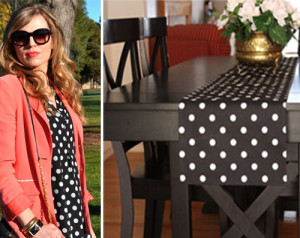 Polka dots are one of those classic patterns that can seem timeless yet trendy at the same time, so it's no surprise that they are experiencing a significant comeback for Spring 2014. In the world of fashion design, polka dots popped up all over the Spring/Summer runways this year. Fresh and eye-catching, polka dots appeared in bright colors, ranging from tiny dots to large spots. Depending on how polka dots are designed, they can appear young and fresh or sleek and sophisticated.
Polka Dots at Home
With polka dots making such a splash in the world of fashion design, it makes sense that interior design has followed suit and embraced polka dots as well. Polka dots are showing up as a part of all of the latest home décor lines. As with clothing, polka dots can lend a touch of sophistication or youthful freshness, depending on the styling and design. Black and white polka dots are particularly popular, as they add a graphic, modern feel to a room.
There are plenty of places throughout your home where you can introduce polka dots and work this trend into your interior design. Consider adding the following elements to your home décor:
• A polka dot bedspread. In the bedroom, make a graphic statement by switching to a colorful, dotted comforter. If that's too much of a statement for your taste, try a bedspread with spotted details or allow polka dot sheets to peek out from underneath a solid comforter.
• Spotted wallpaper. For the uber-trendy, polka dot wallpaper is irresistible. Dotted wallpaper makes a room seem chic and glamorous.
• Dotted throw pillows. One of the easiest ways to incorporate polka dots into your home décor is to buy a few spotted throw pillows. For instance, Pillow Décor's cream multicolor dots decorative pillow would make a stylish addition to any living room.
Once you get started with this trend, it's hard to stop! How will you introduce polka dots to your interior design?