Seasonal Decor
now browsing by category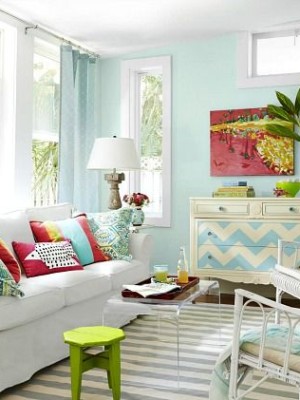 There's no better way to ring in the summer season than with tropical home décor. The great thing about tropical décor is that, contrary to popular belief, you can go bright and bold or clean and sophisticated. Consider your existing color palette before choosing your tropical additions, and then look for accents with a tropical theme.
If you'd like a tropical theme year round, try out a light sea blue on the walls or a Florida Keys Blue. Light blue tones will be reminiscent of the sea, but not so bold as to overtake a room. Florida Keys Blue is more like the beautiful turquoise colors of the Florida Keys, and it can make any area feel tropical.
Fortunately, you don't need an entire room to be repainted to bring in the tropics. Accents do a good job of giving your home the feel you've been looking for, even if it's just for a season. For those just wanting some incredible summer accents for their spaces, here are some options to consider.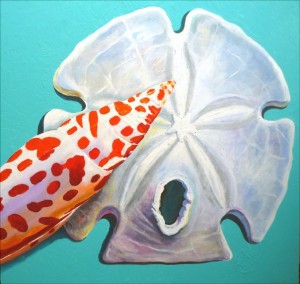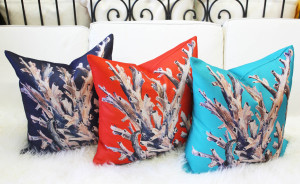 Creature Comfort
One of the most fun trends right now features sea creatures in your décor. For the fisherman in your life, this provides an alternative to that mounted bass over the fireplace. Simple, sophisticated, but with a nod to the sea, these accents recall the ocean. Choose a fish design that ties in with your color scheme for best effect. A personal favorite is the Lionfish.
For those with cool wall tones, beautiful seahorse décor makes for beautiful additions. These majestic creatures give you that underwater feel while remaining somewhat understated.
Floral Fantasies
When you set your tropical theme in motion, don't forget to add touches of underwater plant life. If you'd like to bring a tropical reef feel to your bedroom, explore some coral-inspired options. Pale coral tones work beautifully with darker design schemes.
Bold Is Beautiful
Big and bold tropical prints are trending right now, especially for outdoor areas. Tie your ocean theme home with your deck or pool area with bright and bold colors. Whether you choose Macaw Green or Sunset Orange, the right pillow colors can connect your inner tropic theme with your outdoor areas. If you want to embrace the season, jump in with some of these large print throws; they don't have to be an obvious nod to the tropics. Waverly Fishbowl Caviar is a favorite year round but will still fit into a tropical décor.
Whether bright and attention grabbing or subtle and clean, there's a summer-inspired tropical design out there for you. Experiment this season, and bring summer inside!