halloween decorations
now browsing by tag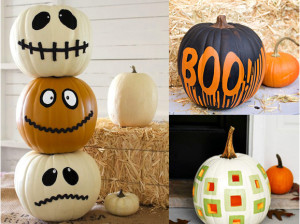 No time to carve? No problem! Pick up some painting supplies and get creative with your friends and family.  Unlike carving, even the youngest kids can enjoy this fun Halloween activity!
If you are throwing a Halloween party but feel there is not enough time to decorate your home, don't worry – treat your guests to some tasty, Halloween-inspired desserts such as these fun and festive cupcakes. Try serving your friends cupcakes in a jar – a funky Halloween version of the traditional cupcake – plus, very convenient for a stand-up type of party!
Halloween Themed Stickers
If you have no time to invest in decorating your interior for Halloween, consider spooking up the exterior of your house or apartment with black window stickers. The scary and mysterious silhouettes on the windows will get you and your neighbors in the Halloween mood. Add some orange lights to frame the windows for the full effect.
One fast and hassle-free option is to use orange balloons with scary Halloween drawings or stickers on them, which can be bought or quickly made at home.
Decorative Halloween Candles
Spelling Halloween-related words on a set of candles colored in yellow, orange, rust and brown is a great addition to the atmosphere. Candles of various shapes, colors and sizes are easily available from your nearest supermarket. To save money, try wrapping the candles you already have at home with colored tissue paper that can be found in your local dollar store. Next, attach vinyl or paper letters to spell words like "October", "Happy Halloween" and "Boo!"
One of the easiest ways to decorate your home for holidays in a comfortable and functional fashion is to throw in some decorative pillows. At Pillow Décor, we got you covered for your Murder Mystery Halloween party!  Add a splash of blood red to your living room with this shockingly sophisticated Bullet Point Pillow.