neutral decor
now browsing by tag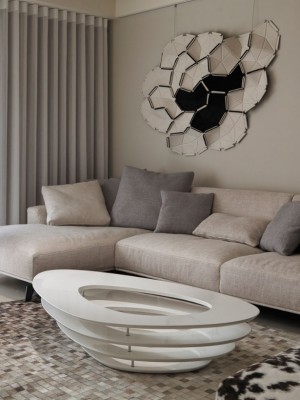 Neutral colors are often forgotten or pushed aside, especially during spring and summer when homeowners like to decorate using bright, saturated colors. While colors are a must for any decorating project, neutrals help ground your ideas and give you focal points from which to begin. Today, we'll focus on how neutrals, especially neutral pillows, can enhance your spring and summer decorating.
Versatility
One of the best things about neutrals is that they go with every color and theme imaginable. This is crucial if your spring or summer project revolves around a few large items or an eye-popping theme. For example, let's say you want to re-cover the big couch in the center of your living room, and your living room's theme is "sunset." Upholster the couch in burnt orange, yellow, or soft pink. Then choose neutral pillows in beige or white to evoke clouds and calm. If you have a bedroom with a literary theme, stay away from pillows with big quotes on them. Instead, let the walls and main furniture pieces revolve around the theme. Use cream or chocolate-colored neutral pillows to ground the design and evoke a relaxing library.

Embellishment
Neutrals are often unfairly judged as boring. Yet neutrals are softer and less showy than other colors, so they're easier to embellish. For instance, not many people know metallic colors are neutrals. If you want a truly eye-popping room, consider using pillows with hints of gold or silver sparkle to enhance existing neutrals. Purchase neutral pillows trimmed with fringe, lace, or embroidery to speak to a room's theme – indigo trim for a celestial theme, perhaps. Finally, don't forget the fabric. Neutral pillows can garner attention if they're made from unique or luxurious fabrics like raw silk or Mongolian wool.
All There in Black and White
Using neutral pillows doesn't mean sacrificing pattern and theme. In fact, black and white pillows are increasingly popular because their patterns are often more versatile than those in multicolored pillows. A black-and-white striped pillow could evoke your love of zebras and African safari trips – or it could be the backdrop for the multicolored quilt you received as a wedding gift. Black and white pillows with kaleidoscope designs can evoke everything from flowers to snowflakes to spider webs. Black and white pillows often have special quotes or postcard designs on them, so if you'd like to build a theme around a favorite travel destination, they're a great choice.