home decor
now browsing by tag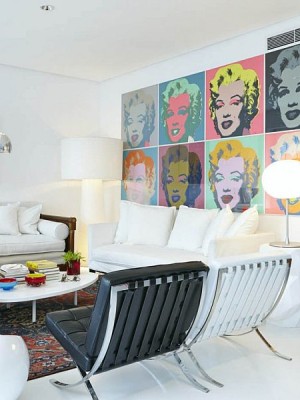 If you love art history, art prints or just enjoy spending time in art museums, you likely have a favorite artist or painting that inspires you. Be creative when decorating your home by using this passion for art as a theme for room décor. Don't worry about breaking the bank to get a famous painter represented in your home, simply follow these ideas:
Create a Focal Point
If your piece of art is large, put it on display as the focal point of the room and decorate around it. Your favorite piece of art can be an original of a yet-to-be discovered artist to keep costs low. If it is a piece from Monet, you may want to opt for large art prints and splurge on an ornate frame. The focal point of the room doesn't have to be a painting. You can find art on scarves or blankets that you can hung up as artwork as well.
Feeling creative? Paint your own replica of a masterpiece. Some famous painters' work can be fun to mimic, such as Piet Mondrian's Composition with Red, Yellow, and Blue. If creating art isn't what you had in mind, don't worry; it is easy to find art prints and art-inspired objects.
Art-Inspired Objects
Look around at stores and online, and you will find many items featuring famous artwork. Lampshades, curtains, towels, placemats, coasters, and pillows are all popular items decorated with famous art motifs.
Go Big with Art Prints

If you have the space and want to make a powerful statement about your favorite piece, consider reserving an entire wall to showcase your favorite artist. Buy a postcard of your favorite art and make many copies – enough to "wallpaper" your wall with the print. Another idea is to commission a local artist to paint a mural on the wall using your favorite painting style or movement.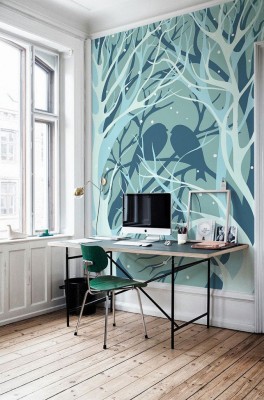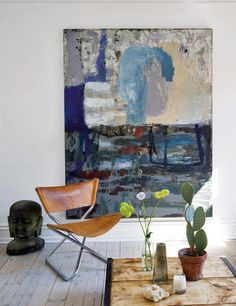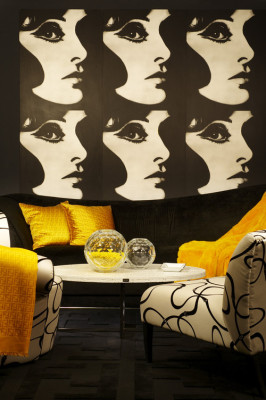 Color Palette
After you have found your focal point and art-inspired objects to place in the room, keep the rest of the décor simple. Doing so will draw attention to the art prints and allow it to be the centerpiece regardless of its location or size. Pull colors from the piece of art to decorate the rest of the room. If the artwork contains many bright colors, choose only one to paint the walls or pick a lighter shade of the color to avoid overpowering the artwork. Save the stronger colors in the art for accent colors in the room.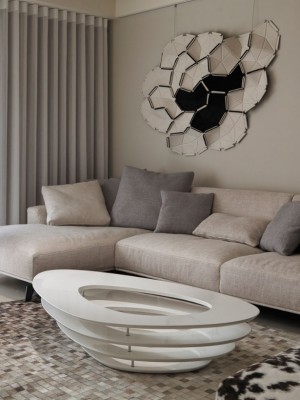 Neutral colors are often forgotten or pushed aside, especially during spring and summer when homeowners like to decorate using bright, saturated colors. While colors are a must for any decorating project, neutrals help ground your ideas and give you focal points from which to begin. Today, we'll focus on how neutrals, especially neutral pillows, can enhance your spring and summer decorating.
Versatility
One of the best things about neutrals is that they go with every color and theme imaginable. This is crucial if your spring or summer project revolves around a few large items or an eye-popping theme. For example, let's say you want to re-cover the big couch in the center of your living room, and your living room's theme is "sunset." Upholster the couch in burnt orange, yellow, or soft pink. Then choose neutral pillows in beige or white to evoke clouds and calm. If you have a bedroom with a literary theme, stay away from pillows with big quotes on them. Instead, let the walls and main furniture pieces revolve around the theme. Use cream or chocolate-colored neutral pillows to ground the design and evoke a relaxing library.

Embellishment
Neutrals are often unfairly judged as boring. Yet neutrals are softer and less showy than other colors, so they're easier to embellish. For instance, not many people know metallic colors are neutrals. If you want a truly eye-popping room, consider using pillows with hints of gold or silver sparkle to enhance existing neutrals. Purchase neutral pillows trimmed with fringe, lace, or embroidery to speak to a room's theme – indigo trim for a celestial theme, perhaps. Finally, don't forget the fabric. Neutral pillows can garner attention if they're made from unique or luxurious fabrics like raw silk or Mongolian wool.
All There in Black and White
Using neutral pillows doesn't mean sacrificing pattern and theme. In fact, black and white pillows are increasingly popular because their patterns are often more versatile than those in multicolored pillows. A black-and-white striped pillow could evoke your love of zebras and African safari trips – or it could be the backdrop for the multicolored quilt you received as a wedding gift. Black and white pillows with kaleidoscope designs can evoke everything from flowers to snowflakes to spider webs. Black and white pillows often have special quotes or postcard designs on them, so if you'd like to build a theme around a favorite travel destination, they're a great choice.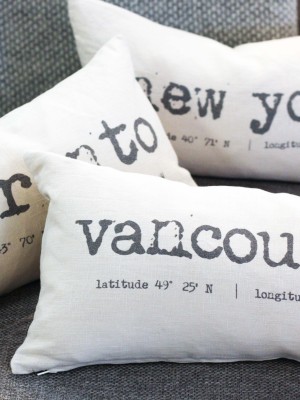 Thematic rooms decorating is enjoying increased popularity, especially among millennials and young couples. Many people like to decorate rooms based on themes including favorite colors, books and movies, or travel destinations. Pillows are a great way to showcase these themes in a cost-effective way without taking up too much space. Today, we'll show you how pillows can enhance a few popular decorating themes.
Nature Themes
As the world becomes more concerned with caring for the environment, people enjoy keeping in touch with nature even indoors. A nature-themed bedroom or sitting room is one way to do so. For this type of room, you can use classics, such as pillows with floral designs, but don't be afraid to think beyond the usual. Seek out pillows made from natural fibers, or ones that evoke nature without using specific prints. For example, choose a blue-striped pillow for an ocean-themed sunporch or sitting room. Choose pillows in sunset colors – deep orange and purple or soft pink – for a relaxing bedroom.
Old World Tradition
Many homeowners enjoy the exotic flair of themes based on travel destinations, specific time periods, or specific art styles. If this describes you, go for pillows with tapestry designs or ones that evoke your favorite styles. If you love Native American culture, choose tribal designs, or choose a pillow with a large sun design if you like early Mexican or Aztec art. For those who experiment with creating thematic rooms to showcase a specific country, a pillow with a flag design is a good choice, as is one decorated with particular symbols. For instance, French heritage can be alluded to with fleur de lis designs.
Single Color Sparkle
Favorite colors make any room feel like home, but be careful not to saturate any room with one color. Instead, build your décor around one or two favorite colors with accents such as pillows. Solid pillows are often the best choice for rooms dedicated to specific colors. These can be made from material infused with sparkle or fabrics, like imitation velvet, to give your room a heightened sense of luxury. Use neutrals in your walls and furniture to make colors pop. Consider using pillows and blankets in varying shades of your chosen colors.
Thematic Rooms: Vintage Options
Vintage is a popular décor choice among today's homeowners because when done with a keen eye, it's timeless. The "vintage vibe" covers everything from postcard-style pillows to pastel florals, from linen and lace to hand-stitched country designs. To achieve this look, search out pillows made with time-honored fabrics and simple trim, such as a bit of lace tatting or understated embroidery.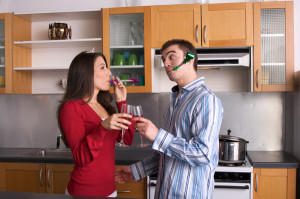 It's a New Year, which for many of us means exciting changes. If you are changing your living situation and wondering about creating a harmonious living space when moving in together with another person, read on. Whether you are planning to have a roommate or that special somebody has finally voiced a desire to cohabitate, it is likely that the other member of the partnership will be bringing furniture with them. Instead of getting into a fight or throwing everything on the curb and starting over, here is a handy guide to making the material parts of your life fit together.
Moving in together means Mixing and Matching
When couples move in together, the process can definitely create obstacles. For example, when one person has a more classic furniture style and the other has largely modern pieces and accents, issues can arise. The first piece of advice is to simply lay everything out and see how it looks together. As with this example from Apartment Therapy, you may find that your styles can merge better than you imagined. Of course, it also helps to keep an open mind about what should stay and what should go in order to share the space and make sure that every party is satisfied.
Objects Make Harmony
When mixing and matching modern and vintage, found objects as accents can do wonders to make a seemingly mismatched room work together beautifully. Another idea is to blend multiple styles of antiques and other décor so that your home feels like its items have been collected over a period of time (rather than matched at random).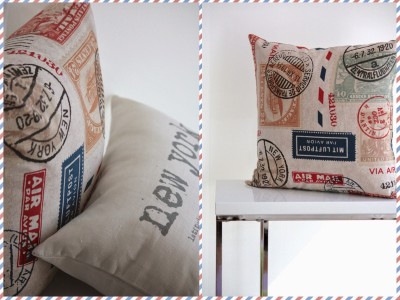 Find Colors in Common
When it comes to mixing and matching different styles, one of the main points of coordination is color. Even if different people do not necessarily agree on accent colors, neutrals like white can add a sense of harmony and togetherness to pull the whole feel of the room together.
Accessorize
As always, accessories are key. Objects like artwork, tableware, small decorative pieces and throw pillows can really make the whole room come together. When choosing your color scheme while having different stylistic preferences, consider off-white objects that are well designed. For a throw pillow, for example, the rustic Cacao Bean Throw Pillow, is an excellent choice that is simple yet original.
While the phrase "throw pillow" might make you think of the typical square pillow, the truth is that your choices are much more varied! Learn more about the different kinds of throw pillows that you can use to accent any room.
Size and Style
Throw pillows can range from just a few inches or several feet wide in size. Sizes can also be mixed and matched for different pieces of furniture or floor space.

Bolster pillows, unlike the traditional rectangular or box pillow, are cylindrical in shape and are sturdier as well – an excellent option for leaning or propping up the head or legs.

Edges and Flanges for Pillows
There are a number of different shapes that the edges of a pillow can take. For instance, the most basic type of pillow that you will see is the rectangular knife edge pillow. This type of pillow consists very simply of two square or rectangular pieces of fabric sewn together around the edges, creating a seam.
There are more decorative styles of pillows, however, such as the flange pillow, which has a band of flat fabric around its edges. These are enormously versatile and customizable, as the flange can be a different pattern than the rest of the pillow – though it doesn't have to be. A welted or corded pillow has a cord rather than a flange around the seam, which can also be comprised of the same fabric as the pillow, or a different fabric which coordinates.
Finally, the box pillow has raised, flat sides. This type of pillow is typical of the couch or seat cushion. The sides of the box can match or contrast the top and bottom of the pillow. Any pillow can come with tassels and other fun decorations, so don't be afraid to look at several different styles and shapes.
Types of Stuffing
There are just a couple of types of pillow stuffing, namely down and synthetic options. Down requires the owner to fluff the pillow regularly, which is why many pillows are made of a down/feather or down/synthetic blend to hold their shapes more readily. Synthetic fillings have actually improved enormously over the past couple of decades, which means they can be as comfortable as down, and are a great option for pillows that will see a lot of wear. For example, polyester Fiberfil is hypoallergenic, a great option for those who want the feel of down but suffer from allergic reactions.
Texture and Color
Colors and textures are the most obvious aspects of any pillow, so choose throws that you like the look and feel of. Don't be afraid to go a little wild, either – like with this Snow Leopard Faux Fur Throw Pillow from Pillow Décor, which mixes a fun pat tern with a luxurious texture.