patio pillows
now browsing by tag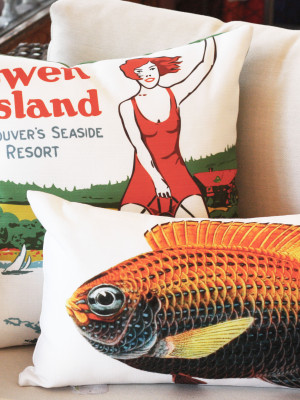 Pillows are a great décor item any time of year, but most people associate them only with fall and winter. The word "pillow" tends to connote a warm, somewhat bulky item that only serves indoor purposes. In reality, you can use pillows for a myriad of summer decorating projects, some of which we've highlighted here.
Use Durable Summer Pillows
Summer is the perfect time to move your decorating skills outdoors. Adding summer pillows to your deck or veranda can give it a splash of color and make guests more comfortable during a cookout or poolside party. While shopping for outdoor pillows though, make sure you look for a few key features:
Weather protection. Look for acrylics and other fabrics that won't hold moisture or become mildewed
Durability. Avoid pillows made with silk, rayon, or nylon, as they will tear easily and are more difficult to clean
UV resistance. Using a pillow that soaks up too much sunlight can make you hot, sweaty, and uncomfortable. In addition to this, colors exposed to sunlight from the wrong sorts of fabric will soon fade.  Look for temperature-resistant fabrics in light, heat-reflecting colors.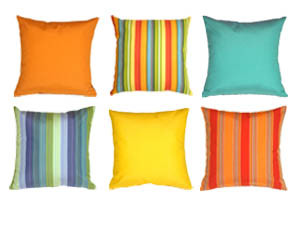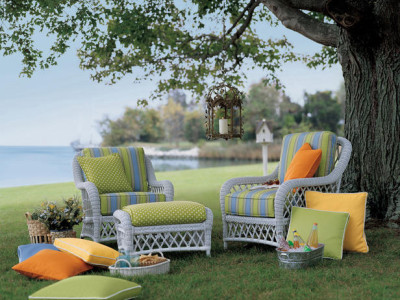 Bring the Beach Home with Summer Pillows
During spring and summer, everyone is anxious to get outdoors again. If you aren't near a beach or mountain resort, use outdoor pillows to bring those luxurious locales a bit closer. Look for pillows with specific designs, such as beach scenes, pineapples, sunsets, or bright florals. If you want more subtle décor, seek out pillows with multicolored waves or stripes, or a tie-dye style.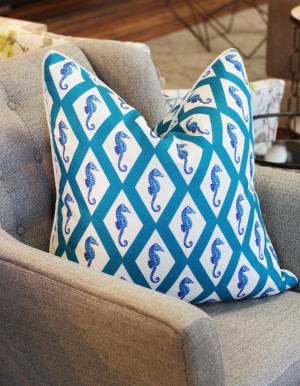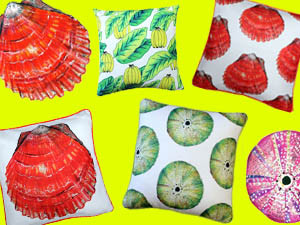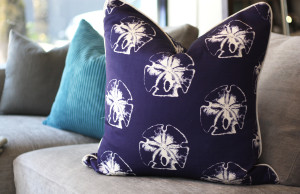 Go Big and Bold
During summer, most people wear brighter, bolder colors. Your home and outdoor spaces can, too. Popular summer shades include –
Turquoise, aqua, and indigo blues
Deep, saturated pinks
Neon greens and yellows
Purple in almost any shade from lavender to violet; this is often used as an accent color in larger designs
Oranges in bold or soft shades; these can be tinged with soft pink for a sunrise effect
Many summer designs also use larger, bolder prints than their fall and winter counterparts. Look for starburst designs, large geometric patterns, or patterns that evoke tribal or Native American cultures. Some summer pillows are made with fringe or tassels for an extra bold touch.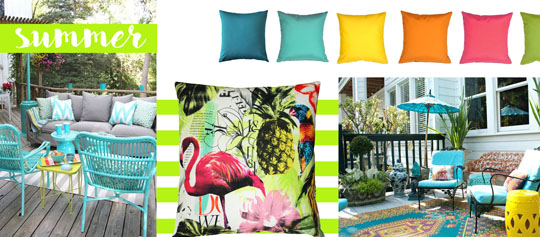 Nod to Mother Nature
Your pillows and other outdoor décor should be backdrops to the natural beauty around you. To facilitate this, look for pillows whose designs celebrate nature. Some pillows use floral designs, while others have a single bird or animal as a focal point. Still other pillows use more abstract designs, relying on colors like green, cream, and earth brown.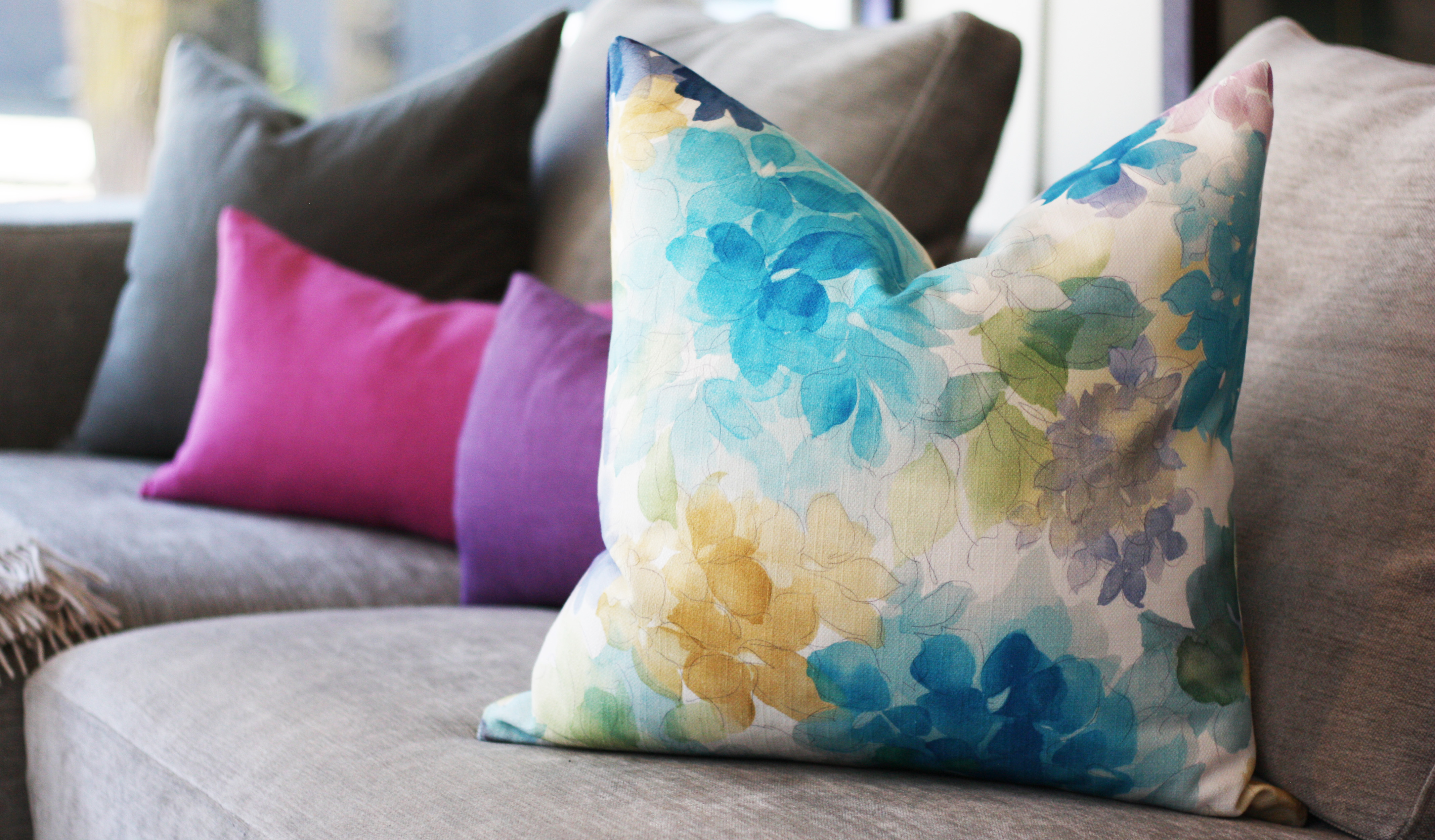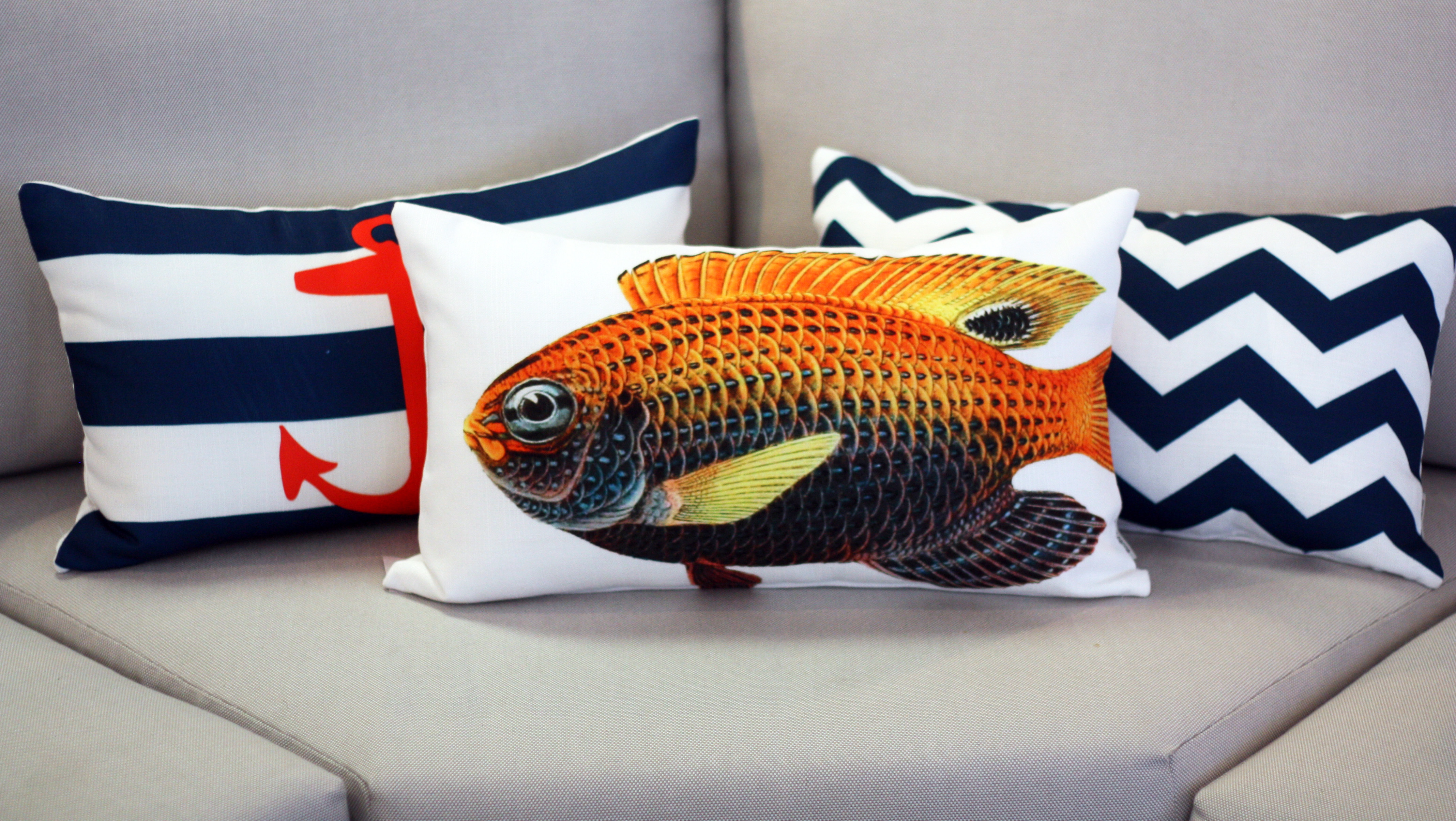 While most people don't consider "soft" furniture for decorating out of doors, it remains true that cushions and outdoor throw pillows are actually a great way to bring comfort to your porch, patio, or outdoor seating area. Cushions and throw pillows can even do wonders to create a space that feels like an outdoor "room." Consider these pointers for creating an outdoor seating space that prioritizes comfort and style.
Bright Colors
One of the best ways to make your outdoor seating area more comfortable is to use bright colors. Because of the way that outdoor seating reflects natural light and flashy flowering plants in your garden, you have much more leeway to mix and match colors out of doors than you do inside. For added coordination, consider using some of the colors that you have already used to decorate the interior of your home, creating a feeling of overall harmony both indoors and outdoors.
Get Creative
Colors are not the only way to make outdoor seating areas feel exciting and interesting. Patterns such as zigzags, stripes, polka dots, or even tribal patterns can be great when mixed together, reflecting some of the unique shapes in nature. Consider mirroring the shapes of your trellis with damask seat cushions for a subtle but lovely way to make your outdoor space harmonious. Outdoor throw pillows like the Waverly New Twist Aquarium can add both bright colors and patterns to any outdoor decor.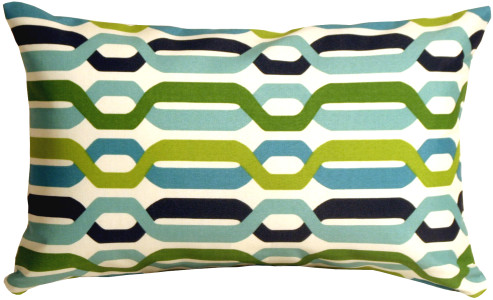 Multiple Layers of Outdoor Throw Pillows
You want outdoor furniture to be made of materials that will last, which is why rattan, wicker, and wrought iron are such popular choices. However, with such classically uncomfortable materials, you will need to find new ways to add comfort. By layering outdoor throw pillows with varying shapes and sizes, your patio space will feel customized, luxuriously comfortable, and even downright plush.