fur pillows
now browsing by tag
Mongolian sheepskin is emerging onto the scene, and it's beautiful. The colors are gorgeous, and who doesn't want to snuggle up to it? Pillows made from this natural material are in high demand right now. In part, that's because they're fantastic design elements and because they're so comfortable. What many people do not realize, however, is how good they are for you. Take a look at some of the benefits of using Mongolian sheepskin pillows.
Temperature Regulation
The sheep from which the wool is garnered have specific living conditions. They're exposed to extreme heat during the day and extreme heat at night in their natural environment. Their ability to adapt to these extreme temperatures means their wool can maintain heat or coolness. The result is a material that keeps you warm when you curl up with it in winter. When it warms up, the fibers dispel heat quickly. It acts as a natural temperature-regulator. For anyone living in an area that gets four seasons a year, this material is a lifesaver.
Supportive Comfort
Every wool fiber on a sheep grows in a spiral shape. Each of these tiny springs respond to the amount of pressure placed on them. The result is a body-hugging experience that thoroughly supports you. This helps eliminate pressure points and thus reduce pain. Use small, rectangular throws for lower back support or full squares for the whole back experience.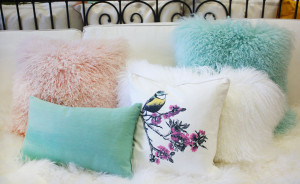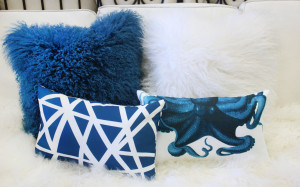 Pressure Relief
Sheepskin has been used in healthcare for a long time due to the level of relief it brings patients. Those suffering from arthritis, stiffness, back problems, or hip injuries benefit from the use of this material. When patients are cold, it heats them up. In turn, this keeps circulation healthy. Once the patient is warm, it draws dampness away from the body. Nobody wants sweat sitting on their skin, so this further elevates comfort.
Design
Maybe one of the best things about Mongolian sheepskin pillows is that they serve form as well as function. We've explored some remarkable health benefits associated with them, but there's also plenty to be said for the design element they add to any room. These amazing pillows are the perfect balance of utility and comfort. Once you've squeezed one, you'll see exactly what we mean. They also represent an awesome combination of sophistication and fun. Their fuzzy texture adds whimsy to any room while maintaining a sense of elegance. These trendy pillows are a welcome addition to any home or design scheme.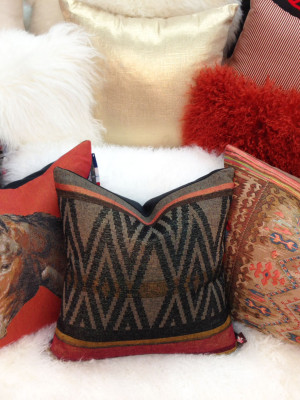 Recent décor trends call for texture throughout the home. From raw wooden surfaces in the kitchen to woven fabrics in the living room, the emphasis is on natural, unrefined materials. For those of us who want to dip our toes in the trend, textured throw pillows add visual interest to your living room without going overboard.
Why create texture in the first place? Usually one's eyes are initially drawn to the lines of a room; along the walls, around furniture, or along the straight lines of exposed baseboards and carpet. These tend to be smooth, less cluttered but also less visually arresting. But just like looking at a photograph, our eyes naturally search for that final focal point in a room. The right throw pillows can be an excellent way of drawing the eye into the room, while at the same time extending an invitation to sit and relax.
Many people are aware of the power of color but few realize that texture can be just as effective at creating a visual point of interest in a space. For example, a long haired Mongolian sheepskin textured pillow on a smooth leather sofa can creates fantastic contrast in texture. Similarly, the reverse will work just as well, such as in the example of a smooth silk textured pillow on more heavily textured chenille sofa.
Not only are pillows a great a way of bringing texture into a room, but they can also be changed with the seasons, and are more affordable than many larger accents pieces such as curtains or area rugs. Pillows allow you the freedom to experiment with color and texture until you find the perfect look without compromising comfort.
You can try to apply texture to the walls or ceiling in the eccentric rooms in your home and contrast this look with bright or patterned pillows. This loft looks fantastic, though without some pillows to liven up the space it would look sterile and perhaps too much like a museum. Notice how the orange and black pillows stand out against the white walls, also successfully complementing the picture hanging above the couch.
How Do I Arrange Them?
Because the texture is the focus of the pillows, arranging them carefully is a must. It is just like hanging a picture. Pillows tossed carelessly against the floor or in the middle of the couch make the room look cluttered. Speaking of the couch:
• If you have two pillows sitting at both ends of your couch, find two with different patterns. You might want to keep the same texture so they match, but choose one with a solid color and the other with polka dots.
• Large sofas work best when patterned pillows are in the middle with solid colors at each end, or vice versa. Make sure your textured pillow matches the couch!
• Prints work much better with neutral colors. Bright-colored pillows stand out like a neon-green jogging suit in a room full of tuxedos.
• If you do decide to mix up patterns, at least one color should stay consistent. Otherwise, the color scheme fails and it looks less like décor and more like what you found in a string of garage sales.
• Vary the size of each pattern if possible. For instance, if one pillow has light, thin stripes, pick another with a bold plaid.