natural decor
now browsing by tag
Mongolian sheepskin is emerging onto the scene, and it's beautiful. The colors are gorgeous, and who doesn't want to snuggle up to it? Pillows made from this natural material are in high demand right now. In part, that's because they're fantastic design elements and because they're so comfortable. What many people do not realize, however, is how good they are for you. Take a look at some of the benefits of using Mongolian sheepskin pillows.
Temperature Regulation
The sheep from which the wool is garnered have specific living conditions. They're exposed to extreme heat during the day and extreme heat at night in their natural environment. Their ability to adapt to these extreme temperatures means their wool can maintain heat or coolness. The result is a material that keeps you warm when you curl up with it in winter. When it warms up, the fibers dispel heat quickly. It acts as a natural temperature-regulator. For anyone living in an area that gets four seasons a year, this material is a lifesaver.
Supportive Comfort
Every wool fiber on a sheep grows in a spiral shape. Each of these tiny springs respond to the amount of pressure placed on them. The result is a body-hugging experience that thoroughly supports you. This helps eliminate pressure points and thus reduce pain. Use small, rectangular throws for lower back support or full squares for the whole back experience.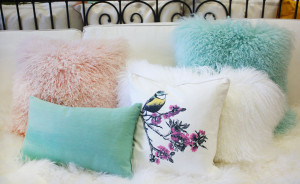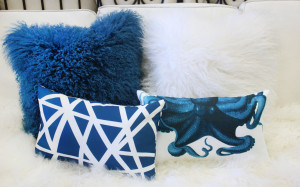 Pressure Relief
Sheepskin has been used in healthcare for a long time due to the level of relief it brings patients. Those suffering from arthritis, stiffness, back problems, or hip injuries benefit from the use of this material. When patients are cold, it heats them up. In turn, this keeps circulation healthy. Once the patient is warm, it draws dampness away from the body. Nobody wants sweat sitting on their skin, so this further elevates comfort.
Design
Maybe one of the best things about Mongolian sheepskin pillows is that they serve form as well as function. We've explored some remarkable health benefits associated with them, but there's also plenty to be said for the design element they add to any room. These amazing pillows are the perfect balance of utility and comfort. Once you've squeezed one, you'll see exactly what we mean. They also represent an awesome combination of sophistication and fun. Their fuzzy texture adds whimsy to any room while maintaining a sense of elegance. These trendy pillows are a welcome addition to any home or design scheme.