geometric home decor
now browsing by tag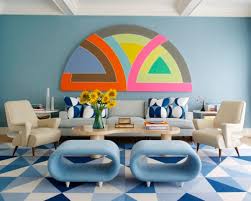 Decorating a room with geometric patterns and shapes is a bold move that's sure to get your room noticed. Be careful, overuse of geometric shapes can be overwhelming to the eye. Make sure your room gets noticed for the right reasons, by following a few simple tips:
Keep to a Single Pattern
If you decide to cover a large area with geometric patterns, reserve yourself to using one pattern. By doing this, you will be able to use this pattern on many objects throughout the room without over-stimulating the eye. Research is important to decorate this way successfully. Find all the items you want to use before purchasing them. Once you begin shopping, you may decide to switch to a different geometric pattern due to the options you are finding the most of.
Consider the Color of Geometric Patterns
Another strategy that will allow you to use different geometric patterns is to focus on just one color palette. It is more pleasing to the eye to see different patterns together if they share the same colors.
The color of a geometric pattern can soften its effects greatly. Look for patterns that use similar colors, such as white and cream or two shades of light blue. The pattern will appear softer, because the pattern will recede into the background.
Reserve Your Theme to One Item
Geometric patterns create a strong focal point that fits the rule of less is more. If you have one item with the geometric pattern, centrally place it in the room. Next, decorate the rest of the room with solid colors and clean lines that will complement the geometric theme. This item could be very large, like a painting, area rug, or bedspread. A small item will be just as impactful such as lampshades, pillows, or placemats.