tapestries
now browsing by tag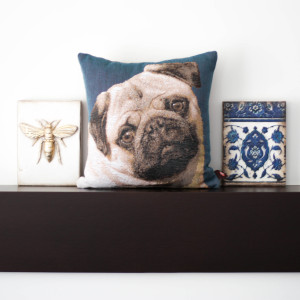 Many people decorating the interiors of their homes opt to shy away from classic French tapestry, believing that such designs are stuffy and outdated. French tapestry designs are making a comeback, however. These designs are occurring in pillows, wall hangings, and more.
A Brief History of French Tapestries
While the term "tapestry" is now used to describe numerous different kinds of textiles, the term has been historically used to designate a weft-faced textile hand-woven on a loom. Tapestries varied enormously in quality throughout the Middle Ages and Renaissance, depending on the skill of the weaver, precision of detail in the weave, and, of course, in the quality of the materials being used.
The purpose of the first tapestries was also varied. They were used to block out drafty weather, divide large rooms into smaller, more intimate spaces, and simply as high quality decorations to relax the feeling of cold medieval stone walls.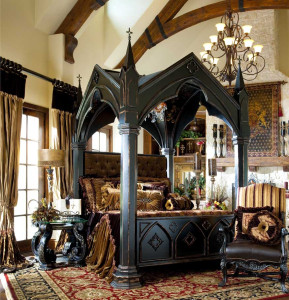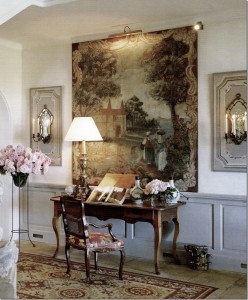 How French Tapestries Are Used Today
Tapestries today serve much the same decorative purpose. Rare, centuries-old tapestries are technical marvels displayed in high-end European homes and museums. They add wonderful depth, warmth, and dimension to a space, and can offset the sometimes stark lines of modern architecture. However, many antique tapestries are enormous, which can require designs to accommodate the tapestries – rather than the other way around.
Incorporate Contemporary French Tapestries Into Your Home
Tapestries are beautiful, but because of their size, they often become the focal point of a room. Unless you are actively designing a period room, the result can feel very out of date. If you want to incorporate tapestries into your home, one way to do so is through the use of throw pillows. French tapestry-inspired pillows, such as this garlic flower pillow, are a perfect way to update Renaissance style, creating a fresh, contemporary look. Classic designs such as this Sun King tapestry pillow are also a great option. Tapestries don't have to look medieval considering a variety of updated designs that would suit various home décor styles from classic to contemporary to rustic vintage.